Tom Grady Rural Merchandise (TGRM)
Tom Grady Rural Merchandise (TGRM) was established by Tom and Lyn Grady in 1991 on the back of Tom Grady Livestock which was the foremost Livestock Auctioneering firm in the Gympie and Wide Bay region. From humble begins in a small 100m2 single room shed, Tom Grady Rural Merchandise has expanded to occupy 2 locations with a footprint of 10,000 m2.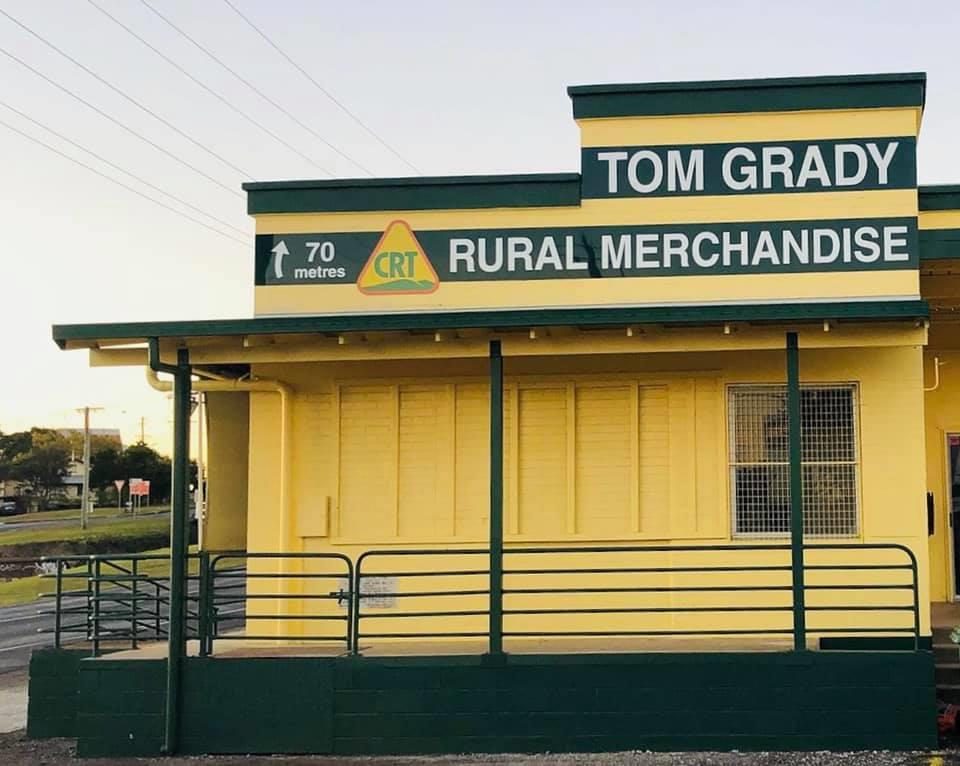 Meet the owners, Tom & Lyn Grady
Tom and Lyn are still the proud owners and are central to the operation of this thriving business and have provided the rock-solid foundations and core values which are "Honesty" and "Respect" for their customers and the wider community. It's for this reason that TGRM sponsors dozens of events on a yearly basis from regional sporting clubs to the Gympie Show were TGRM is the main sponsor for the entire show. Tom and Lyn truly believe that strong communities and strong business are created together in synergy and when support is provided by both entities, great things can be achieved for the community at large.
Tom Grady Rural Merchandise still holds its origin in the livestock industry close to its heart however being a proud member of the Combined Rural Traders (CRT) buying group since 1991, Tom Grady Rural Merchandise can now offer the full range of products available through the Nutrien Ag Solutions group following the group's takeover of CRT. Through CRT's state-of-the-art ordering system, a world of products at competitive prices, are available to our customers. Whether you require products for running livestock, growing small crops or keeping your home garden or hobby farm looking great, TGRM has access to the right products.
Our Ag-Safe qualified staff can assist farmers and home-owners with advice on disease and weed control, fertilizers, animal health products, electric fencing, stock feed and general rural merchandise.
If you need to look good on the farm, at the next equine event or show, or just need something to keep you safe and dry, then Tom Grady Country Clothing and Work Wear has you covered.
Two Great Locations
Centrally located at 2 great locations (Nash St and Tozer St, Gympie) you will enter our facilities with ease in large and small vehicles alike.
26 Nash St, Gympie
Nash Street – Is where you fill find our Country Clothing store and our drive through produce store, serving you from the comfort of your car.
55 Tozer st, Gympie
Tozer Street – Is where you will find our complete range of farming supplies, including large varieties and quantities of fertilisers, water supplies, stockfeeds, steel and electric fencing, chemicals and much more. You will find our Tozer St store in Gympie's historic Butter Factory which dates back to the early 1900's. A highlight of the Tozer St store is easy access, with a driveway which extends right around our building, no vehicle is too big to handle.
TOM GRADY RURAL MERCHANDISE PTY LTD
ABN 46 097 014 045